Umpqua Hot Springs
In Southern Oregon not too far from Crater Lake, you may be able to find Umpqua Hot Springs. This unique place is one of my favorite hot springs. It has a shelter built over the springs but there are no walls to keep the surroundings out of the experience. It is sometimes crowded (not as populated as springs closer to urban areas such as Bagby or Cougar/Capra) but the middle of the week and during less popular tourist seasons, I have hiked in, soaked, and hiked out without meeting another human.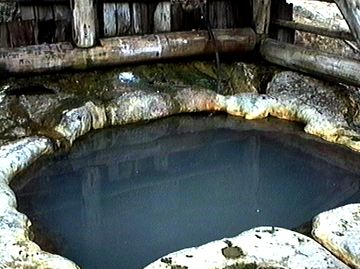 The pool is hewn into the top of a mound of sediment that has built up over the centuries from the minerals contained in the water. While I do not know the exact history of this place, I believe from the feeling that I get when I am there that the Native Americans used this spot long before my European ancestors ventured to this land. It feels to me to be alive unlike some other hot springs that I have visited where the Spirits of the springs have grown weary from the neglect and overuse by unheeding souls. Should you decide to visit this special place, please do so with reverence and respect for the beauty of the area and the timelessly flowing water.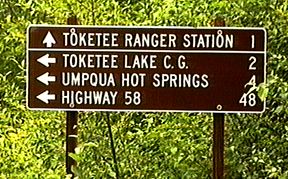 If you can find this sign, you may be able to locate the spring.
You are getting closer.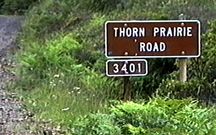 The last sign on your journey.
If you find this place, you are there. Cross the footbridge and take the first trail to the right and it is about 1/2 mile.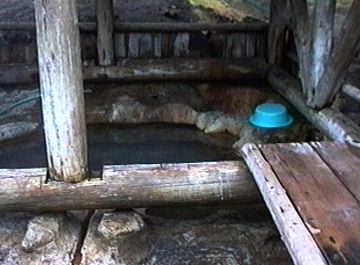 Another shot of the pool. Notice the massage boards built by volunteers.
Happy Soaking!!
---
Visit the Austin Hot Springs Page
Visit the Bagby Hot Springs Page
---
Click here to get more info on camping in Oregon State Parks
Click here to go to, "At Home in Oregon: What's Rex up to Now."
Click here for a mushroom report.
Click here for truffle information.
Click to visit the Kam Wah Chung & Co. Museum.
Click here to visit Silver Falls State Park.
Click here to visit the Sumpter Dredge.




---