Kam Wah Chung & Co. Museum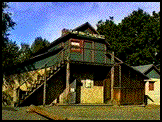 (Some of this information is paraphrased from the Museum brochure with the permission of the Oregon State Parks and Recreation Dept.) The Kam Wah Chung & Co. Museum in John Day, Oregon was constructed as a trading post on The Dalles Military Road in 1866-67. It served as the center for the Chinese community in Eastern Oregon until the early 1940's.

The original building now contains thousands of artifacts and relics that illustrate the many former uses of the site. It was: a general store, run by Lung On; an office for the famous herbal doctor, Ing (Doc) Hay; a Chinese temple; a gathering (and gambling) place for Chinese people throughout the region; as well as home to the proprietors.
There were hundreds of thousands of Chinese people that came to this country seeking relief from famine, overpopulation, and the loss of industry due to cheap goods from the West. By the time of the 1879 census, there were 960 whites and 2468 Chinese inhabitants of the gold mining region of Northeastern Oregon.
In 1887, two young immigrants, Ing Hay (left)
and Lung On (right), purchased the building. They lived there from 1948 and 1940 respectively. They were an important part of Eastern Oregon history. The development of the economy and culture in the region is still represented in the Kam Wah Chung & Co. Museum today. Originally, the building was intended as a trading post on the main East-West highway of the period. Doc Hay and his partner Lung On sold large amounts of mining supplies and staple foodstuffs to the miners, both white and Chinese. As the community changed, the men sold canned goods, notions, tobacco, cigars, and cigarettes. Many of the goods were imported from China. There is evidence that Chinese money was exchanged between the immigrants and it was probably used to purchase goods from their former homeland. During the prohibition, Lung On sold "bootleg" whiskey. Examples of these types of goods are still in the Museum.
One of the things that I found most amazing was the way that Lung On (he was the storekeeper) rotated his stock. When a new shipment arrived, he would move the old and opened cases of goods to the back of the storeroom. This resulted in a large variety of goods that come from different periods of

product line development. The stock is still there today. It is very interesting to note the development of packaging and to find that even the companies that manufactured the goods do not have examples of their products that are represented at the Kam Wah Chung & Co. Museum.
The building served as the office of Doc Hay. He was the most famous Herbalist between San Francisco and Seattle in his day. He was a master of pulse diagnosis. Doc Hay could tell his patients what was wrong with them just by feeling the pulse in their arm. Then he would prepare an herbal mixture from local plants and herbs from China. Doc Hay was blind. When he shut the building up in 1948 to go to the nursing home, Doc Hay left behind over 500 different herbs, many that have never been identified.
When I went to John Day September and October of 1995, I interviewed several of the older residents of Grant County. One lady (in her nineties) said that her mother told her that Doc Hay made her father angry when he diagnosed (just by feeling her arm) that she was going to be a girl before she was born. A gentleman in his sixties related a story that he had heard about Doc Hay as a child. It would seem that the test given to graduate from the herbalist college the candidate would be required to diagnose a patient through a screen, never having visual contact. If the diagnosis was incorrect,

the student would be beheaded. This was one way to insure against malpractice, I guess.
All in all, the Kam Wah Chung & Co. Museum is a great place to visit. There are many tools of the period for working wood, as well as a gold mining tool display. The cooking utensils, wood stoves, Chinese religious Shrines, Doc Hay's herbs and the general store goods from a by-gone era make this an educational trip into the past. Carolyn Micnhimer, the museum curator, offers tours to visitors every twenty minutes or so from 9:00 a.m. until noon and from 1:00 p.m. until 5:00 p.m. from May 1 through October 31. If you can't go there physically, you can see it at home. I have made (in cooperation with the Oregon Parks and Rec. Dept.) a video of Carolyn Micnhimer's tour of the Museum.
---
For more information about the Kam Wah Chung & Museum contact the Grant County Chamber of Commerce at 541-575-0547. They are located at 281 West Main in John Day, Oregon (97845).
---
Kam Wah Chung & Co. was restored by:
Oregon State Parks & Recreation Division;
Oregon Dept. of Transportation;
National Parks Service;
American Revolution Bicentennial Comm.;
National Historic Trust;
Oregon Historical Society;
and Interested Citizens.
---
Click here to go to the top of the page.
---
Click here for information about the Kam Wah Chung & Co. video available from Rex Swartzendruber Video Production.
---
Click here to get some info on camping in Oregon State Parks
Click here to see what Rex is up to now.
Click here to visit Silver Falls State Park.
Click here to see what's happening in Sumpter Valley.
Click here to visit Collier Memorial State Park Logging Museum.

---