Bagby Hot Springs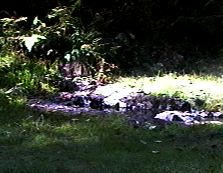 Bagby Hot Springs is one of my favorite places. The hot water comes out of two springs at about 136 degrees. When mixed with the cold water from nearby springs (the volunteers have now even plumbed the larger tubs with cold spring water!!), it is a very enjoyable soak. The only problems are caused by its popularity. Since it is in fairly close proximity to the Portland metro area and is visited by many people, the lack of respect demonstrated by some visitors should really come as no surprise (no matter where you go- there you are). The "original" structure was burned in 1979 and two of five cedar tubs that were carved earlier in the 20th century were destroyed in the fire. Thanks to the efforts of the Friends of Bagby Hot Springs and the cooperation of the US Forest Service there are now three structures housing tubs on the site. There are frequent "car cloutings" in the parking lot so don't leave anything of value in your car.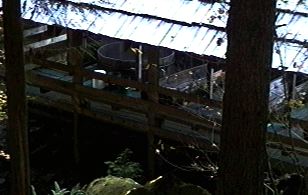 I have never had that problem as I drive old cars that thieves are usually not attracted to because my vehicles appear to hold little of value (the same is true in the urban areas- "Geez, that guy is worse off than we are.... let's hit the next car."). I have returned to the parking lot to find numerous vehicles each with several tires slashed (9 in one night). My friend Robin (pictured on the mushroom page) and I returned to find his vanity rims stolen off of his 1967 camero on one trip. These incidents are really the exceptions as I have been there literally hundreds of times with few negative experiences. Law enforcement officers (Clackamas County Sheriffs and Freddies- US Forest Service Special Agents) regularly visit the springs and volunteers are usually on duty.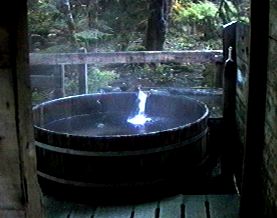 Bagby Hot Springs was "discovered" by Robert Bagby, a miner from Amity, Oregon, in 1881. The Native Americans used the springs for centuries before him. Legend has it that there were no weapons permitted in the area of the springs (that is still true today) so that the people visiting the springs for healing could do so without conflict. Now, most conflicts occur due to immaturity (including too much alcohol) and music played too loudly (leave your boomboxes at home please- I want to hear the springs not people).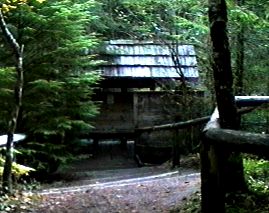 There are three bath houses at the site. One is the "Community Tub" which is available to anyone as long as there is room. This tub hold 6 to 8 people (10 if they know each other REAL well) and is fed from a spring separate from the other houses. It is my favorite tub.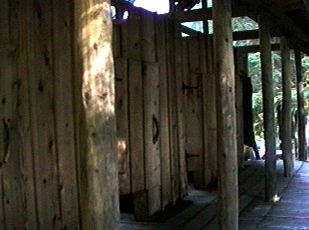 The New Bathhouse has 5 "private" stalls each with a cedar "canoe-style" tub. These hollowed out cedar logs are very rustic and offer private soaking. There is usually a longer wait for these tubs but my last girlfriend thought that it was worth it as she really didn't enjoy bathing with other visitors. Each stall has wooden pegs on which to hang your clothing while you bathe. To see if a stall is available without intruding on anyone, just look for their clothes on the pegs.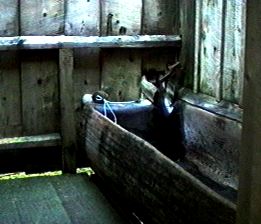 This is the largest tub in a private stall. It is nicknamed the "Honeymoon Tub."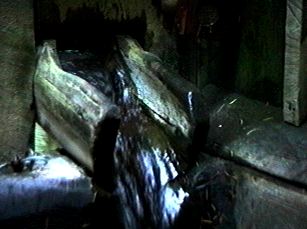 The plumbing is made up of hollowed out trees. I call it "Gilligan's Island Plumbing" as the water is let into the tubs by moving a wooden lever.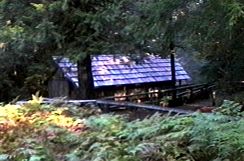 The Lower Bathhouse has the three remaining "original" tubs and a large hottub style tub. There are no walls between the tubs in this facility.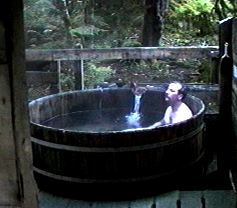 The bathhouses are located in an awe inspiring setting surrounded by old growth Douglas Fir, Hemlock and Cedar trees. It is easy to just relax and forget that the constructed, I mean "real", world exists. For more pictures of some of the trees, visit the Forest Nutient Cycling Page.
---
Please Remember: Clothing is optional;
Treat the facilities, springs, plants, humans and other animals with respect.
---
Visit the Umpqua Hot Springs Page
Visit the Austin Hot Springs Page Back to the index page
---